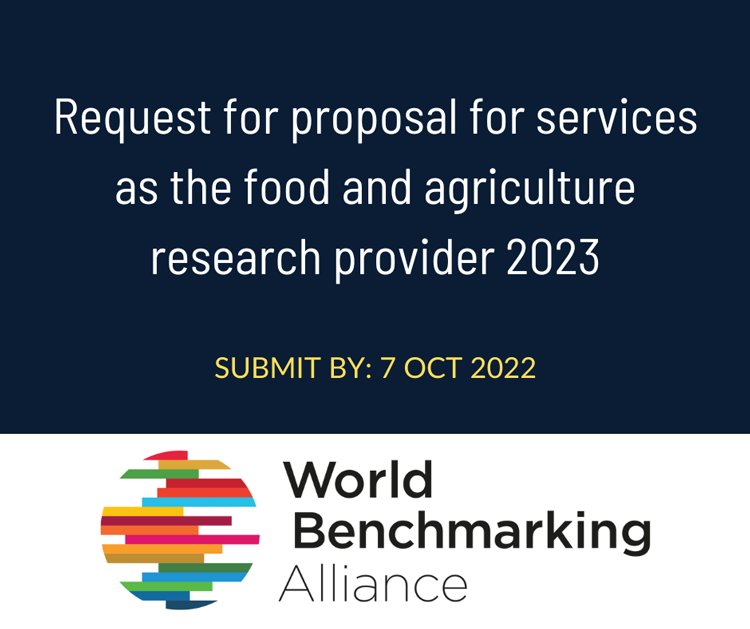 This Request for Proposal (RFP) sets out a draft scope of work for research provider support required to deliver the World Benchmarking Alliance (WBA) benchmarks related to the food and agriculture sector, defined as 350 keystone food and agriculture companies. The respective WBA benchmarks are the Food and Agriculture Benchmark and the Nature Benchmark. The RFP is provided to enable interested parties to develop initial cost estimates and options to deliver the scope and as such should not be viewed as any form of agreement between you and the WBA.
The research provider is not expected to create or revise a methodology, but to assess companies using the Food and Agriculture Benchmark and Nature methodology. The key deliverables will be 356 draft company research profiles that WBA's own core team of staff will finalise following (WBA-led) engagement with benchmarked companies. 
EXPECTATIONS OF THE PROPOSAL
We expect that your proposal will, first and foremost, include an estimate of the personnel and financial resources required to produce the expected deliverables listed herein. Furthermore, WBA anticipates that you will be able to demonstrate how you will deliver in three key areas:
Research process and quality: interpreting large volumes of written data and scoring companies consistently against our methodology.

Food and agriculture sector familiarity: depth of and proven knowledge regarding environmental, biodiversity, nutrition and social sustainability issues and business.

Research intensity: being able to handle in-depth research of around 350 companies within condensed timeframes.
Responses to this RFP should be sent to s.posa@worldbenchmarkingalliance.org by 7 October 2022.
Know more here

Read Full Proposal here